Published on 23 May, 2022
On 18th May 2022 we won the Wellbeing Award at the Federation of Small Businesses (FSB) Celebrating Small Business Awards 2022! We were thrilled to win the Wellbeing Award for the South West earlier in the year, but to win the National FSB award is a wonderful achievement and a great recognition for our efforts to improve staff wellbeing.
Creating and maintaining a culture of openness, acceptance and trust is at the forefront of our company's ethos as we ensure our entire team has the resources they need to feel comfortable, valued and free to be themselves at work. 
The FSB awards are the largest event of its kind in the small business calendar. The awards are free to enter and entrants are judged by a panel of leading business experts who have a wealth of experience within their industries.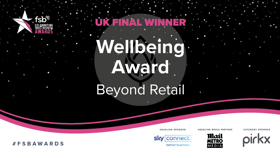 Elliot Lees-Bell, Director and Founder here at Beyond Retail had this to say about our win:
"Staff wellbeing is of utmost importance to us, and winning this high-profile award is fantastic confirmation that we've found a winning formula to help our employees, and our business.
"We want our people to feel comfortable, valued and totally free to be themselves at work.  Our people and their wellbeing have been the foundation upon which the business has been built.
"The last few years have tested companies worldwide, particularly small businesses, so we know it is only down to our brilliant people that we've been able to adapt, learn, and eventually thrive through this unprecedented time."
We're so proud to be recognised for our commitment to staff wellbeing from such a prestigious award, and we're grateful that our focus on our employees' mental and physical health was recognised by the judging panel!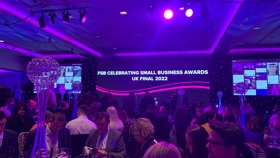 Martin McTague, National Chair of the FSB said:
"Well done to Beyond Retail, whose dedication to their employees' health and wellbeing shines through in their actions and their ethos as a responsible and committed employer. People are the most important asset in any business, and Beyond Retail set an example of what is possible when staff are nurtured and valued.
"There's no denying that small businesses of all stripes have had a challenging year, with more uncertainty ahead.
"This turbulent backdrop makes the winners of our Celebrating Small Business Awards, like Beyond Retail, stand out even more, as they have successfully navigated a tricky landscape, and given us brilliant stories of their innovation and determination to succeed, which we are delighted to share with a wider audience."
---
As we continue to grow, we'll keep championing our team by providing them with the opportunities, tools and autonomy to be their best selves mentally and physically, and we can't wait to see what the rest of the year has in store for us at Beyond.