Published on 12 March, 2019
If our stunning new offices and lovely people haven't quite convinced you to join the team at Beyond yet, we're certain our fabulous office dogs will! We thought we'd give you the low-down of our pups, along with a few super cute snaps! Sound good? Let's get stuck in…
Before we go into the truly adorable details of each and every pup, we've put together some rather cute Top Trumps cards for each dog - who wouldn't want a pack?
Maya
Maya, or as we lovingly like to call her, Princess Maya, is the Beyond office Top Dog and she sure knows it too! Once the runt of her litter, Maya likes to defy this on the daily and is sure to make up for it with extra loud barks and plenty of love to give around. If you're so much as sitting near Maya, she's sure to place her paw on your arm - we like to think of this as her labelling you the chosen one for a little while before she moves on to the next.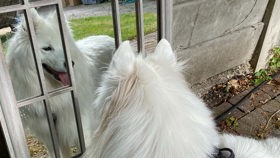 With her silky polar bear-esque fur, Princess Maya has a real musical talent too, in fact she sings to us on a daily basis… Well, we say singing, if you call an adorable yet deafening bark singing then you certainly won't be disappointed. We'd say Maya's bark is roughly 120 decibels - that's around the same volume as a clap of thunder.
An eager playmate, Maya will do everything in her power to play with as many dogs as possible, even if that means engaging her warp speed mode and chasing after an unsuspecting pup. We love our sassy Samoyed, and we're certain you will too!
Bertie
When he's not busy being the most adorable boy you've ever seen, Bertie is often found running in circles or staring menacingly at his next victim (AKA a toy to destroy). Often the victor in a game of tug-of-war with Maya, Bertie rewards himself with some cuddles from the nearest human, and perhaps a carrot stick if someone is kind enough to donate one.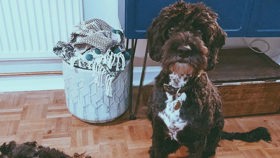 No matter what kind of morning you've had, you're bound to instantly cheer up when entering the office as Bertie is sure to greet everyone with the largest amount of excitement we've ever seen - if you're lucky you might even receive a few little excited (and extremely gentle) nibbles on the arm! He may slightly resemble a sheared lamb after a fresh trim, but Bertie certainly is one of the most cuddly dogs in the office, especially if you bribe him with some cheese - his absolute favourite.
Darwin
Darwin may not be a daily visitor to the Beyond Retail office, but believe us when we say you'll still be able to feel his love (and hear his protective growl) for weeks after a visit. This handsome gentleman is most well known for his love of cuddles and whilst he sometimes may not be up for an intensive play session with Maya, Darwin is always the first to volunteer for curling up and having a good old-fashioned snuggle session!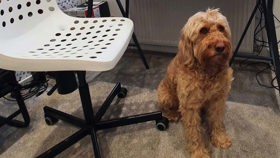 This gorgeous miniature goldendoodle is rather partial to a steak or two, but his one true love is bananas. Whilst he may not get a lot of bananas at home, if Darwin spots a banana in the wild, he's bound to go truly, well… bananas!
Like Maya, Darwin has a bark built for shattering ear drums, but he's also a master of the squeak! If his humans leave the room for so much as a second, upon their return the Darwin squeal can be heard all around the office - what's not to love about a dog that's really, really excited to see you?
Brownie
Brownie is our slightly more cautious member of the group who is what can only be described as a very beautiful seal-dog hybrid! With a shaky start to life as a stray dog in Cyprus, Brownie can be a little nervous around strangers, but as soon as he gets to know you he really is the most adorable seal you've ever met. Friendship with Brownie is easily obtained simply by giving him a little bit of attention - a surefire way to make Princess Maya jealous too!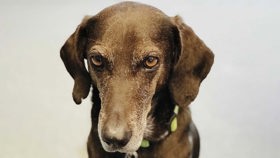 Brownie's favourite snacks are carrots or tuna, and he's usually spotted with his head poking round a door to any room with the remote scent of food. Who can blame him? Since our kitchen remodel has happened there's always some beautiful food being whipped up by our budding chefs. Jamie Oliver, eat your heart out.
We haven't had a lot of visits from Brownie yet, but we're hoping he'll pop in more often now the offices are larger and there's more places to hide from an overexcited Maya!
Kizzy
Kizzy, our office sausage dog is one chonky gal, but we love her all the same. She may not be remotely interested in playing with other dogs, but she is partial to a few cuddles - or more accurately, a full day of cuddles! This gorgeous girl will quite happily sit on anybody's lap all day, as long as her beloved owner Dom is in sight, if not then there may be some whining and pig noises until her love is in sight once again.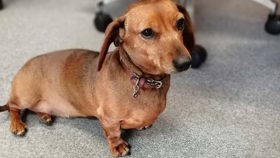 We must warn you though, Kizzy is an absolute fiend when it comes to blankets and simply cannot be stopped from chewing her way through every blanket in sight. We reckon this OAP (old aged pup) is at least 30% blanket by now. She's also rather partial to licking, so keep those sleeves rolled down when giving our favourite sausage a snuggle.
Coconut
One of our newest additions to the pack, the heart-melting Coconut is greeted with eternal smiles every time she's in the office. If you're looking to meet a delightfully snuggly, slightly bearded lady - Coconut is your gal! How could you not melt into a puddle of "oh my gods" on the floor every time this cheeky little Dachshund-Yorkie cross is about?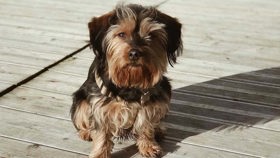 No matter the toy, no matter the strength, it's no match for Coconut. This little one may look like the 'emdoggyment' of innocence, but our beautiful bearded pup can destroy virtually any toy within mere seconds; our office is full of decapitated stuffed animals thanks to this one's regular triumphs. Small but mighty, Coconut has settled in angelically and we couldn't be more delighted to have her gracing us with her presence!
Misty
Misty is a small Siberian Husky who absolutely loves her food! She's around 6 years old and can be a little shy sometimes. It may take her a little while to come round to new people, but as soon as she does she'll be more than happy to accept a treat from you.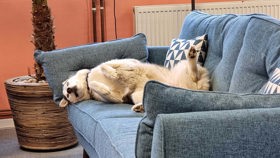 This stunning girl embraces her inner Husky when on her lead and likes to pull, but as soon as she's taken off the lead she'll walk right besides you - typical! In the office, Misty likes to stay in the accounts department with her owner, but she'll occasionally pop out to say hello to the other dogs and receive a few cuddles from the other teams.
A Two and Four Legged Combo
If you hadn't have guessed by now, we're pretty damn keen on our doggos here at Beyond. Then again, who wouldn't be when we have such a wonderful selection to entertain and snuggle at any time of day. Plus, 6 legs are better than 2. That's just maths.
If your pup-adoration extends just as far as ours, then why not come and join the Beyond pack yourself? Head to our Careers page to find out more.