Published on 10 February, 2021
Each year, we as a company meticulously choose a charity to support throughout the whole year and carry out a few fundraising activities to raise money. Last year saw us supporting Dorset Cancer Care Foundation and collecting funds through various ways including a 10K run along Bournemouth beach front and bake sales. This year we've gone for something a little different, and a charity that has connections to who we are as a company. And that is:
Toilet Twinning
"Toilet Twinning raises funds to enable people in poor communities to have clean water, a basic toilet and to learn about their hygiene."
Toilet Twinning is a charity run by Tearfund, which is a community-led project that tackles poverty and injustice through sustainable development and responding to disasters.
"2 billion people in the world don't have anywhere safe, clean and hygienic to go to the loo."
Toilet Twinning enables families to build a toilet, have access to clean water and learn about handwashing & other hygiene principles to promote health, safety and dignity. The company aims to educate and empower communities in developing countries, and focus on showing local people the need for improved sanitation before building safe and hygienic toilets.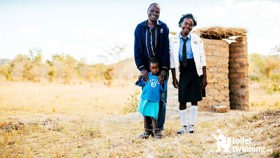 What are We Doing to Help?
We have twinned our 10 toilets, office & warehouses, to fund toilets in Afghanistan, Democratic Republic of Congo, Ivory Coast, Honduras, Indonesia, Malawi, Nigeria, South Sudan, Uganda and Zambia.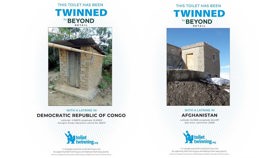 It's great being able to see where our money is going, and how much it transforms the lives of communities in the countries that we've partnered with.
We are also fundraising through various other activities such as a chicken poo bingo sweepstake (yes, really) and optional payroll giving, with all funds going directly towards Toilet Twinning.
Why Do Toilets Matter?
Without proper toilets and clean water, people are trapped in a vicious cycle and are likely to become sick through sanitation-related diseases.
Illness means they cannot work or farm their land, so they grow less food and earn less money
Children often miss school due to ill health or because they're busy collecting water
Girls often drop out of school altogether when they start their periods if there are no toilets or changing rooms
Parents have to pay for medicines or food, so they may fall into debt
Women and girls risk being attacked or bitten by snakes as they go to the toilet in the open, especially if the culture dictates that they have to go out at night
Toilets help end generational poverty by promoting health, dignity and safety through basic sanitation, hygiene education and clean water. It's important to note that the charity's partners spend time gaining the villagers' trust before they ever talk about sanitation, and then encourage them to join action groups focused on issues that concern the community before they start building the toilets.
Since their foundation in 2010, Toilet Twinning have raised over £12 million, twinning over 158,000 toilets in 37 countries, which has transformed the lives of over 940,000 people.
---
We are beyond proud to be part of the 3,800+ businesses that have twinned their loos, and we believe that basic hygiene, safety and dignity are paramount. Learn how you can twin your own toilet (or taps!) here.