Published on 5 November, 2018
Here at Beyond Retail, we've had a ridiculously busy year. Expanding every minute with fantastic new team members, we've seen huge growth across the whole company and weeks that just seem to fly by. But most importantly, we've had a whale of a time in the process.
Our Beyond family is getting so big, we've even had to expand further with some brand new office space to match our bustling, bright and beautiful new warehouse. But the most exciting thing of all happened just Thursday last week - we won an award!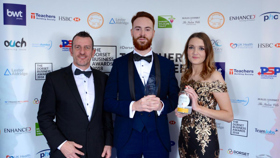 We were absolutely thrilled to receive the Dorset Business Awards 2018 ScaleUp Award for Business Growth! It's truly wonderful to see that all of our hard work pays off, and we can't wait to keep getting better and better.
So what exactly is the ScaleUp Award for Business Growth?
Well, the award honours a business that demonstrates a strong aspiration for significant growth, and is continually building upon a positive track record of increased sales, profit and/or employment within the last three years. But putting the mumbo-jumbo aside and highlighting the obvious for a second, the award is for growth, and we certainly are growing! In the past year, we've taken on as many new team members as possible, and we're always on the lookout for more fabulous individuals to bring their skillset (and excellent sense of humour, of course) to our office and warehouse! But it's not just about growth in terms of sales and figures, because what company in the digital age survives just on that? The award ultimately celebrates our ability to 'scale-up' across all areas of the business and tackle the many trials and tribulations that growth presents. The award itself was sponsored by Enhanced and you can find out more about it here. A huge thanks to Simon and the team for choosing us as the winners!
Why don't we fill you in a little bit about how we got our hands on this fantastic award? We began the process alike any other award - with a simple application, which was then followed by a visit from the lovely Enhanced team. We introduced our esteemed visitors to our worker-bees, and of course the stars of the show - our office dogs!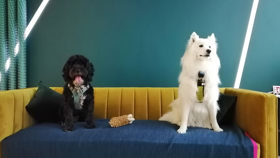 Finally, as one of three finalists attending the awards ceremony, we donned our best tuxedos and dresses and headed down to the Bournemouth International Centre for an evening of frivolity. It was an evening full of charming and insightful people, all deserving of recognition, and we couldn't have been prouder to attend.
We wanted to say a huge thank you to the Dorset Business Awards for such a wonderful evening and of course this fabulous award. And of course, a big congratulations to all the other finalists and winners!
If you'd like to read more about the Dorset Business Awards 2018, take a look at this article in the Bournemouth Echo to get the full scoop!