Published on 4 February, 2019
We've had a rather busy few months here at Beyond, from winning the Dorset Business Awards Scaleup Award for Business Growth to unveiling our stunning new office extension! Now whilst our team have already been basking in the glory of our new urban office spaces for a little over a month, we felt it only right to share the luxury with the rest of the world too!
Our project has been ongoing since we took over the unit next door to our offices in May and whilst it has all been very exciting, there was one day of pure, unadulterated excitement nobody could contain: the day the wall between both units was knocked down! Not only did all of our wonderful team figuratively jump for joy at this, but our beautiful office dogs literally jumped for joy at the new open space they had to run around in! Maya, our majestic Samoyed frequently engages what we like to call her "warp-speed mode" as she chases the other pups around the office. We wish we had a video for you, but she's just that fast. There's nothing like having dogs around the workplace to brighten everyone's day!  
As continuity is key in all things style-related, we made sure our new office space was in keeping with the theme here at Beyond, the theme of course being urban-industrial design. We take our interior design very seriously here so our team made sure every piece of furniture fits perfectly with the style; this meant lots of things like spider lights, wire-cage downlights, crittall glass, tolix chairs, chesterfield style booth seating, copper taps, mixed metals, and all of the other stunning components you can see below - it's no secret the whole team wishes their kitchen looked like this!
Not only do those distressed tan leather booths look and feel wonderful, but they also provide a great space to have casual meetings; our team is ever-expanding and that means our office needs to be too - there's even a screen in each booth for all of our meeting and demonstration needs!
Of course, the kitchen and break-out space weren't the only parts of the new office space to get the star treatment! If you've done your research then you'll know that Beyond sell gorgeous bathroom, kitchen, and heating products through our three websites. Now what kind of bathroom and heating company would we be if we didn't have our own luxurious products in our offices? Have a look at a selection of our favourite bathrooms and radiators from the new office space below; each bathroom has its own theme, because we really love interior design!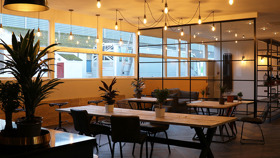 Now whilst we'd love to take you on an Architectural Digest-style tour of our offices (maybe one day), we should cover some other factors of our new office space, aside from just the pretty furniture. Let's start with the environmental bits! We adore our beautiful planet here at Beyond, so we try our hardest wherever possible to be environmentally conscious. Take all of our wooden desks for example, these are all crafted from upcycled reclaimed wood because believe it or not, we really need trees. Something about oxygen being good for us, or something like that. Reclaimed wood is of course wood that has been salvaged from buildings and structures that are going to be destroyed - it's then reused for another purpose, such as some stunning industrial tables!
There are some truly great companies out there that are working towards saving our planet, one of our favourites being 'Who Gives a Crap' toilet roll. Not only are this fabulous company huge advocates for our beautiful environment by using zero trees and 100% recycled paper instead, but they also donate 50% of their profits to help build toilets for those in need - pretty admirable right? Of course, we were totally captivated by the amazing work at Who Gives a Crap, hence why we only use their wonderful toilet paper in our offices!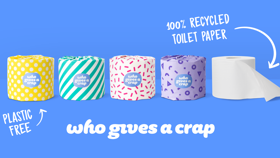 We also source all of our free fruit from local sources because we just love to give back to our community - so I guess after all of that you could say we're pretty passionate about the planet!
Well, now that we've talked your ear off about our stunning new offices, we're certain you can see just how wonderful life is here at Beyond, and if these offices are the thing of your dreams (how could they not be?) then you're in luck as we're always looking for more fantastic individuals to join our team. Take a look at our careers page to start your journey with Beyond Retail - our swanky new office is reason enough, but the people are pretty great here too!